Horsetail Oil for Hair Benefits: Improve Growth Naturally
Horsetail Oil for Hair Benefits: Improve Growth Naturally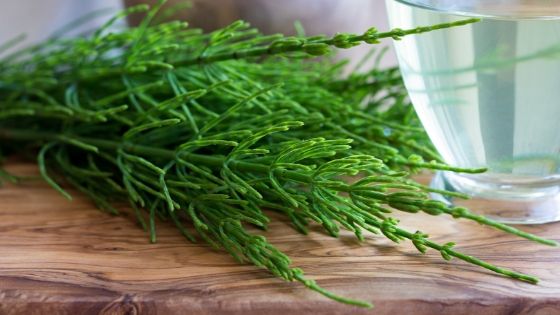 When you buy through links on our site, we may earn an affiliate commission at no additional cost to you (learn more)
Are you struggling with hair that seems to only be getting thinner? Or maybe your hair is just lacking that luster it used to have not too long ago? While there are many conventional products at your local store that may be able to help with these problems, they are often laden with artificial chemicals and ingredients. Consider using horsetail oil, an oil derived from an ancient plant, to help improve the health of your hair.
What is Horsetail?
Horsetail is a plant that is found world-wide. Varying in size, with some prehistoric versions being nearly tree-like, there exist today almost two dozen variants of the horsetail plant. Keep an eye out for them in areas near bodies of water, such as next to lakes or rivers. Beyond having medicinal uses for the human population, horsetails play an important role in the ecology of the ecosystems where they grow today, helping to serve both as under-water habitats as well as food sources for many organisms living in the water where they are growing. They have many medicinal applications due to their diverse chemical makeup. For example, they are known to be rich in silica, various flavonoids, saponins, magnesium, potassium, and many other minerals, all of which contribute to their usefulness historically and today. Used for many issues, such as anemia, depression, and wound healing, among others, horsetail continues to be useful to this very day.
Horsetail Trivia
There are many interesting facts that revolve around horsetail. For example, although it contains the name of a well-known animal, horsetail is poisonous to horses. It is also toxic to humans when consumed in large amounts due to the fact that the plant contains a compound that inhibits the metabolism of a B vitamin. Additionally, the high content of silica in horsetail, which is found in the stem of the plant, allows it to be effectively used for cleaning metal. In the past, this plant was used to clean off metal cooking dishes!
Medicinal Uses of Horsetail
There are many other medicinal uses attributed to the horsetail plant. These include for the treatment of edema, infections of the urinary tract, and decreased control of the bladder. While the plant has been traditionally used for these purposes, there is not significant research supporting the use of it as such, and it is also known to be toxic if consumed in large amounts. However, extracts from the plant are also known to impart benefits on hair health and have been used in cosmetics and hair care products.
Horsetail for Hair Health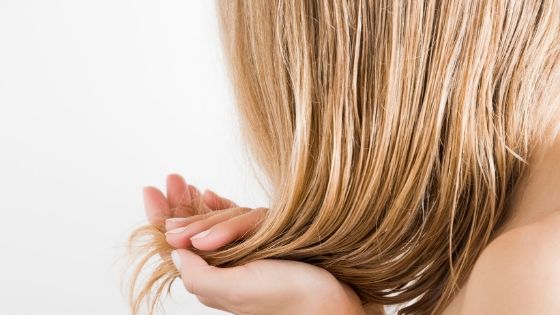 Some sources cite the ability of horsetail oil to stimulate hair growth for people suffering from alopecia. It has also been observed to bring a smooth texture to otherwise frizzy hair and to decrease the occurrence of dandruff. These hair health-promoting effects can be attributed to the various nutrients and minerals that are found in the plant, including aluminum salts, alkaloids, selenium, and aconitic acid, in addition to the others listed earlier. Particularly, silica, one of the compounds more abundant in horsetail, has been shown to have an important relationship to the strength and health of hair, skin, and nails alike.
One study that was published in 2012 indicated that silica derived from the horsetail plant and taken as a dietary supplement was able to improve hair growth for people with the perception that their hair was thinning out. Other research has indicated that people with hair that has higher silicon levels did not fall out as frequently as those with lower levels. Horsetail has been reported to improve both the shininess of hair and the suppleness of skin in those who use it.
To use horsetail for hair health, it can be taken as an oral supplement, used as an herbal tea, or used in its essential oil form. There are many products using horsetail as a main ingredient, including tinctures, juices, creams, and ointments. It can also be used as a rinse for your hair; just brew a strong batch of it and run it through your clean, damp hair after a shower and let it air-dry.
A Word of Precaution
While horsetail products are able to be taken orally, it is important to pay attention to the dosage. Long-term use of horsetail products has been determined to be possibly unsafe as it is noted to break down an important B vitamin (thiamine) in the body, leading to a deficiency. Horsetail is not recommended for people with thiamine deficiencies or alcoholism for this reason; people who struggle with alcoholism tend to already be deficient in thiamine. Additionally, pregnant women and people with hypokalemia (or low potassium levels) should also avoid use of this plant and its derivatives. Consult your doctor before using a horsetail supplement of any kind, especially if you are taking any other medications or using any other herbs or supplements.
The next time you need to choose a hair care product, consider using horsetail oil. Avoid using conventional products that are filled with many unknown ingredients and use the oil to create a product you can trust. Use horsetail oil to bring shine and strength back to your lovely locks!