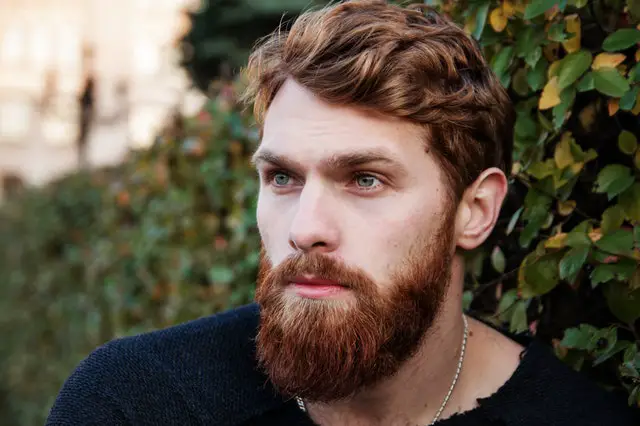 When you buy through links on our site, we may earn an affiliate commission at no additional cost to you (learn more)
While you may be aware of the many medicinal and healing properties that tea tree oil has, you may not know just how great this essential oil is for helping promote a healthy, full beard! Essential oils aren't just for ladies, and here's how this herbal remedy can help you have the beard of your dreams.
The Benefits of Tea Tree Oil for Beards
Extracted from the tea tree (Melaleuca alternifolia), which is native to Australia, tea tree essential oil has been prized for centuries for its abilities to heal wounds, reduce inflammation, and fight infections. Tea tree oil can help cleanse hair follicles, preventing fungal infections that affect hair growth. Keeping your beard clean and free of microbes is important to maintaining its health and fullness, and tea tree oil is an excellent product for this purpose.
Tea tree oil has been used for generations to both stimulate hair growth as well as to maintain the health and quality of existing hair. Tea tree oil will keep your hair follicles and skin pores clean and free of clogs, which will prevent infections that can impede hair growth.
Tea tree oil also helps moisturize the skin under your beard, which prevents dry, flaking skin. This essential oil also moisturizes the hair itself, keeping it soft and smooth. If you suffer from "beardruff," tea tree oil is the choice for you.
How to Use Tea Tree Oil on Your Beard
There are several easy ways to include tea tree oil in your beard-care routine. To start, you can add one drop of tea tree oil to your regular shampoo or conditioner that you use to cleanse and condition your beard. This will keep the hair and underlying skin clean and refreshed, which will help it grow longer and more full.
Below, we share with you three different versions of homemade beard oil that you can also apply to your beard every day. Each of these is excellent for promoting beard growth and health. They each utilize various essential oils that have other properties and which give your beard different scents. You can also experiment to make your own beard oil, mixing and matching oils to suit your needs.
All essential oils should be mixed with a carrier oil before applying to your skin or hair. While each of these recipes includes a specific carrier oil, you can certainly choose another that works best for you. Typical carriers oils include jojoba, sweet almond, olive, coconut, argan oil, hazelnut, and hemp seed. You can even use multiple carrier oils in one recipe, depending on your needs and what you have at home.
Beard oils should be applied daily, working them into the hair of your beard starting at the skin and working your way down. Rub a few drops into your palms to warm the oil, then smooth evenly through your hair
Homemade beard oil Recipies With Tea Tree Oil
Acne Fighting Beard Oil
Combine half of an ounce of melted coconut oil with one-eighth of an ounce of Moroccan argan oil, then add two drops of tea tree oil and one drop of cedarwood oil. If your acne is persistent, you can use rosehip oil instead of argan.
Beard Growth Formula #1
Combine three-fourths of an ounce of jojoba oil with one-quarter of an ounce of sweet almond oil. To this, add five drops of tea tree and three drops of peppermint essential oil. Shake to combine thoroughly.
Beard Growth Formula #2
If you are looking for a sweeter smelling beard oil, try this variety. Combine one-half ounce each of sweet almond and jojoba oils. Add two drops each of tea tree, orange, and cinnamon cassia essential oils. Combine thoroughly.
Learn about how lavender oil is used to improve beard health