Essential Oils for Muscle Knots and Spasms
Essential Oils for Muscle Spasms and Knots (6 Must Try Oils)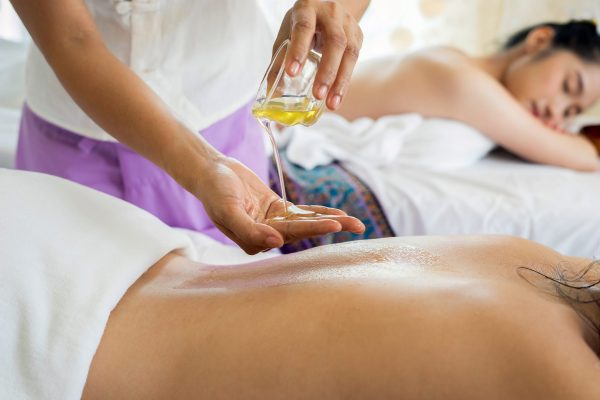 When you buy through links on our site, we may earn an affiliate commission at no additional cost to you (learn more)
We all get sore muscles and painful tension knots in our necks and spines from time to time. You may even have muscle spasms or pain because of a chronic illness or condition, like arthritis, tendinitis, or fibromyalgia. Using natural remedies, like essential oils, to soothe muscle pain and relieve the tension that causes knots in your muscles can provide you with safe, effective relief.
There are many essential oils that can be used to treat muscle tension and pain, and you can apply these oils in several different ways to help loosen those knots and allow you to feel better faster.
The Best Essential Oils for Muscle Pain and Knots
Lavender Essential Oil
Lavender is often the first essential oil of choice for treating tension-related symptoms. It is gentle on the skin, which makes it perfect for treating muscle pain. It can not only reduce pain but also lower inflammation, which may be causing your muscle knots. Because stress is the leading cause of muscle spasms and knots, lavender is an excellent choice because it reduces stress and helps you reduce tension.
Turmeric Essential Oil
Turmeric is a potent anti-inflammatory that also promotes relaxation and healing within the body. If you have chronic joint or muscle pain or spasms, turmeric essential oil is an excellent treatment. It penetrates deep into the skin and can supply quick relief to tension knots, inflamed muscles, and other sources of muscle pain.
Peppermint Essential Oil
For muscle spasms, peppermint essential oil is an excellent choice. Peppermint naturally contains menthol, which relieves pain and has antispasmodic properties to reduce muscle tension. Peppermint naturally calms the body as well as the body, with its strong but pleasant scent. You can use peppermint oil after a workout to relieve cramps or spasms caused by overexertion.
Marjoram Essential Oil
Marjoram may not be as well known among the essential oils, but it is an excellent choice for treating muscle pain and tension. It is a natural antispasmodic, relieving pain and cramps with ease. Marjoram is also excellent for treating other sorts of pain, including arthritis, respiratory inflammation, and migraine headaches.
Juniper Essential Oil
Juniper's uses have been known for centuries, including its ability to lower inflammation, relieve pain, and reduce stress. It is the perfect choice as an anti-rheumatic for those with inflammatory problems. If you are looking for a good massage oil, juniper makes an excellent choice.
How to Use Essential Oils for Muscle Knots and Spasms
There are multiple ways to use essential oils to relieve muscle tension and pain. Here are a few of our favorites.
Combine your favorite essential oil with the carrier oil of your choice and massage this mixture into sore muscles and knotted tissues. You can even warm the oil first to provide a relaxing benefit.

Add several drops of your favorite oil or oil blend to a warm bath and soak in it to relieve tension and soothe aches and pains. To further help ease muscle tension, add Epsom salts to your bathwater, as well.

To relieve stress, which often causes muscle tension, add a few drops of your favorite oil to a room diffuser and use it for aromatherapy.

Soak a washcloth in either cold or hot water that is infused with your favorite essential oil, then use it as a compress to reduce swelling and inflammation.
Essential oils make an excellent treatment possibility for dealing with muscle knots and pain, as they are fast-acting and can be applied directly to the affected area. The next time you have tension in your muscles or muscle pain, reach for your favorite essential oils to help you relax and feel better quickly.
Our Favorite Natural Massage Oil